Dear Teachers,
Thank you for choosing this module!  When humans started settling into villages, towns, and cities, our ancestors discovered how big a problem solid waste could be.  Now, with so much of what we use designed to be disposable or quickly replaced with the newest version, our solid waste problem keeps growing.  Over time, we have developed many different ways of dealing with our trash, but we have yet to discover a perfect way of managing ever-increasing amounts of solid waste.  As populations around the globe keep growing, communities have adapted to their solid waste situations.  Unfortunately, for many this has led to degraded environments and poor health.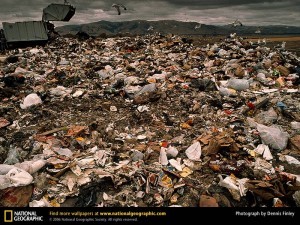 As we think about the huge amount of solid waste we generate, it is also important to consider all the materials going into the products, packaging, food, etc. that end up as waste.  The resources to make these goods are finite. The best way to conserve our resources and limit the problems associated with solid waste is to reduce our consumption and therefore our waste.  This is the overarching theme of the Reducing Solid Waste for a Healthier Tomorrow Module.
In this module, students will have the chance to explore the problems of solid waste at home and around the world and compare strategies for managing our garbage.  Ultimately, students will think of ways they can make changes in their own lives to minimize the waste generated at the individual, family, school, and community levels.  Understanding the three R's – reduce, reuse, recycle – plus compost will be crucial as students think about solutions to solid waste problems.
To facilitate this discussion, students will participate in a Waste Reduction Summit.  Student groups will research and become 'experts' on different topics related to solid waste.  Using their research to inform their conclusions and recommendations, students will then present their topic to the rest of the Summit audience.  Have fun learning about this interesting, if smelly, issue!
Sincerely,
Theresa Springer
Environmental Education Coordinator
Coalition for the Upper South Platte
http://cusp.ws
---
Teacher's Guide
The Reducing Solid Waste for a Healthier Tomorrow Module was designed to teach students about the consequences of our production and management of solid waste and get students thinking about ways to reduce solid waste output.  The module allows students to explore these ideas further in the framework of a Solid Waste Reduction Summit in which groups of students will research a topic and present information, conclusions, and solutions to their classmates, the Summit audience.  The module consists of seven presentation topics – trash in developing countries, solid waste and reform in China, e-waste, landfills, landfill gas, solid waste incineration, and single stream recycling.  For each presentation, a guideline document and PowerPoint presentation that students can populate with information are provided.  This Teacher's Guide will give you more detailed information about this module.
Objectives
Students will:
(1) Evaluate explicit and implicit viewpoints, values, attitudes, and assumptions concealed in speech, writing, and illustration
(2) Articulate the position of self and others using experiential and material logic
(3) Gather information from a variety of sources; analyze and evaluate the quality and relevance of the source; and use it to answer complex questions
(4) Collaborate effectively as group members or leaders who listen actively and respectfully pose thoughtful questions, acknowledge the ideas of others, and contribute ideas to further the group's attainment of an objective
(5) Understand solid waste management is a global problem that can only be solved if individuals take action in their own lives and in their own communities
The Objectives, Standards, and STEM Connections document provides more detail on the applicable state standards for this module.
Time
Purpose of Learning Module/LEED requirements/State Standards                 1 Class Period
– will require lab work
Assign Committees and Topics, Elect Chairperson                                      1/4 Class Period
Overview of Committee Tasks/Presentations                                                1/4 Class Period
PowerPoint Editing, Inserting Graphics and Video                                        1/2 Class Period
Background Reading/Review YouTube Videos                   2 Class Periods with Homework
Create PowerPoints/Practice Presentations                         2 Class Periods with Homework
Summit/Presentations                                                                                     3 Class Periods
Summary/Discussion                                                                                        1 Class Period
Optional Final Report by Student                                                                           Homework
–  Students report on how they made lifestyle changes and/or plan to implement change.
Total                                                                                   10 Class Periods + Homework

Supplies
Students will need access to the Internet and PowerPoint to create their presentations.  Instructions, background materials, and PowerPoint presentations can be found below under their respective topics.
---
Assessments 
Solid Waste Pre-Test (Key Included)
Solid Waste Post-Test (Key Included)
Background Information
History of Trash Presentation
Intro to Trash – Background Reading

Trash in Developing Countries
Trash in Developing Countries Instructions
Egypt Presentation
Philippines Presentation
Brazil Presentation
China: Solid Waste and Reform
China: Solid Waste and Reform Instructions
China Presentation
E-Waste
E-Waste Instructions
E-Waste Presentation
Landfills
Landfills Instructions
What is a Landfill? Presentation
The Ghost of Landfills Past Presentation
Landfill Gas
Landfill Gas Instructions
Landfill Gas Presentation
Methane Videos List 
Solid Waste Incineration
Solid Waste Incineration Instructions
Solid Waste Incineration Presentation
For Teachers:  This is an excellent Waste-To-Energy Incineration Student Handout and Activity Worksheet developed by the Tennessee Solid Waste Education Project. It provides an overview of the incineration process and contains learning activities for the classroom if you are interested in exploring this topic further:
http://www-tnswep.ra.utk.edu/activities/pdfs/mu-W.pdf 
Single Stream Recycling
Single Stream Recycling Instructions 
Single Stream Recycling Presentation
---
Additional Resources

Energy Justice Network – Primer on Landfill Gas as Green Energy:
http://www.energyjustice.net/lfg/
Environmentalists Every Day. America's Solid Waste Industry – History of Solid Waste Management: http://www.environmentalistseveryday.org/publications-solid-waste-industry-research/information/history-of-solid-waste-management/index.php
Environmental Protection Agency – Basic Facts About Waste:
http://www.epa.gov/osw/education/student_facts.htm
Environmental Protection Agency – Methane:
http://epa.gov/climatechange/ghgemissions/gases/ch4.html
Environmental Protection Agency – Methane Capture and Use:
http://epa.gov/climatechange/kids/solutions/technologies/methane.html
Environmental Protection Agency – WasteWise Program:
https://www.epa.gov/smm/wastewise/
Evergreen Waste Services – Teaching Children How to be Green:
http://evergreenws.com/green-kids-corner/
Global Alliance for Incinerator Alternatives (Gaia) – Myths vs. Facts about Waste to Energy:
http://www.no-burn.org/downloads/Incinerator_Myths_vs_Facts%20Feb2012.pdf
Huffington Post – India's Waste-to-Energy Plan Could Mean Bad News for Trash Pickers:
http://www.huffingtonpost.com/2012/09/21/india-garbage-energy-plan_n_1902433.html
Johnson State College, Vermont – Solid Waste Production:
http://kanat.jsc.vsc.edu/student/cassese/main.htm#Ref_SD
National Geographic – High-Tech Trash:
http://ngm.nationalgeographic.com/2008/01/high-tech-trash/carroll-text/1
New York Times – Europe Finds Clean Energy in Trash, but U.S. lags:
http://www.nytimes.com/2010/04/13/science/earth/13trash.html?pagewanted=all
Salinas Valley Solid Waste Authority – Kids Learn about Garbage:
http://www.svswa.org/kids_learn_about_garbage.cfm
Squidoo – E-waste: What is it and what do you do with it?
http://www.squidoo.com/e-waste-recycle
The Economist – Rubbish Map:
http://www.economist.com/blogs/graphicdetail/2012/06/daily-chart-3
UPI – EU activates new e-waste recycling rules:
http://www.upi.com/Business_News/Energy-Resources/2012/08/15/EU-activates-new-e-waste-recycling-rules/UPI-65871345026600/ 
US Geological Survey – Arsenic:
http://minerals.usgs.gov/minerals/pubs/commodity/arsenic/arsenmcs07.pdf

Waste Incineration:
http://me1065.wikidot.com/waste-incineration
wasteincineration.net – Waste Incineration: Positive and Negative Aspects:
http://www.wasteincineration.net/waste-incineration-effects.html
Window on State Government, Texas – Landfill Gas:
http://www.window.state.tx.us/specialrpt/energy/renewable/landfill.php
World Bank – What a Waste: A Global Review of Solid Waste Management:
http://web.worldbank.org/WBSITE/EXTERNAL/TOPICS/EXTSDNET/
©2013 CUSP