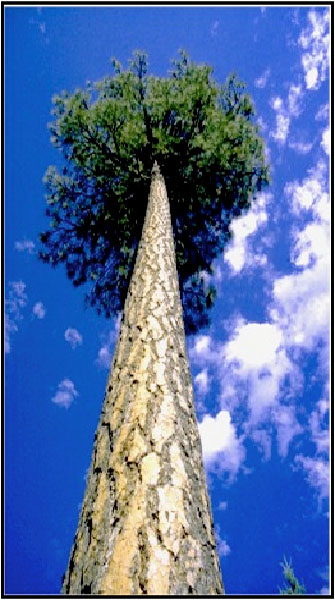 Welcome to this module about trees and how they grow. Not even your textbooks cover some of this information; by doing this module you and your teacher are helping Colorado's forests. It is important to learn about the different parts of the tree and how trees grow together to understand how the forest works and therefore how we can keep the forest healthy. You will also learn about fires in the forest and how they can both hurt and help the health of the forest depending on the type of fire.  Understanding the role of fire in a healthy forest ecosystem will help you make good decisions about how we treat the forest now and in the future.
At the Coalition for the Upper South Platte (CUSP), we find this particular topic very close to our hearts. When you help the forest during your service volunteer day you will either be working on restoration of a burn area or prevention of another catastrophic burn. You will learn a little forest history, and will take a little science with you. Our deepest desire is for you to be able to understand and describe the unique qualities of a Ponderosa Front Range Forest, and in time, as you mature as students, understand how forest health relates to all of us.
ACTIVITIES
Activity 3 – Part 1: Student Reading
Activity 3 – Part 2: Student Reading
DOCUMENTS and MATERIALS
Functions of the Tree Parts Worksheets
Excerpts from Anatomy of a Tree
---
National Wildfire Coordination Group, "Wildland Fire in the United States." Boise, Idaho.
U.S. Department of Agriculture-Forest Service and your State Forester. "The True Story of Smokey Bear." Western Publishing Company, Inc. and the Ad Council, 1960
Lifetime Learning Systems, Inc., "Smokey and Friends What you can do to Prevent Wildfires." A division of Weekly Reader, and the Ad Council.  2002
USDA "Faces of Fire." U.S Forest Service, Fire and Aviation Management- March 1998
Merrill R. Kaufmann, USDA US Forest Service, Peter Marchand, Catamount Center for Geology of Southern Rockies  and Ayn Shlisky, The Nature Conservancy, "Good Fire, Bad Fire." US Government Printing Office:2006-775-242/M3847 Region No.8
Patrick Cone, "Wildfire" Minneapolis, MN. First Avenue Editions, The Learner Group. 1997
Photosynthesis http://www.teachervision.fen.com/tv/printables/botr/botr_022_11-11.pdf
Project Learning Tree http://csfs.colostate.edu/pages/project-learning-tree.html
Colorado State Forest Service www.csfs.colostate.edu  
Trees: The Carbon Storage Experts http://www.dec.ny.gov/lands/47481.html 
Urban Forest http://www.coloradotrees.org/why.php 
A Year in the Life of a Pine Beetle Coloring Book http://csfs.colostate.edu/pdfs/BufordColoringBookFINAL.pdf 
A Year in the Life of a Pine Beetle Book http://csfs.colostate.edu/pdfs/Buford_MPB_Book.pdf 
Arbor Day Foundation's Life of a Tree http://www.arborday.org/kids/carly/lifeofatree/ 
Colorado State Forest Service www.csfs.colostate.edu  
Trees: The Carbon Storage Experts http://www.dec.ny.gov/lands/47481.html 
Urban Forest http://www.coloradotrees.org/why.php
Living with Fire: Protecting Communities and Restoring Forests Findings and Recommendations of the Front Range Fuels Treatment Partnership Roundtable, May 2006 http://www.centerwest.org/publications/pdf/livingwithfire.pdf